Whether you are interested in being a care assistant or a live-in carer, it takes a special kind of person to provide care to others, which is why we are committed to providing you with clear information to help you decide which role is the right one for you.
If you are interested in joining our team as a Care Assistant or Live-In Carer, please read the following FAQ's. We also welcome the opportunity to answer any further questions or queries you may have, so please don't hesitate to call us on +44 (0)1256 700991 or complete our online form and we will get back to you without delay.
What is the difference between a Care Assistant and Live-In Carer?
A Care Assistant works in their local community, visiting multiple clients each day to provide them with support. Your day is busy & varied. You may find yourself preparing a meal, doing housework, supporting with medication, helping a person to wash & dress or simply sitting to have a chat and give some company.
A Live-In Carer lives in the Clients home around the clock to provide more comprehensive support. Your Client may need support due to a long-term condition such as Parkinson's Disease, perhaps they have dementia or they may even be in good health, but frail. No matter the reason the care is needed, your duties may include:
Companionship – spending time with your Client, sharing conversation or joining them with activities they enjoy
Supporting your Client to wash, shower, shave and dress
Supporting your Client with continence and toilet hygiene
Supporting your Client with mobility – some Clients need help to move and walk
Administering medication
Cooking fresh meals, preparing drinks and snacks
Light housework and caring for pets – the usual household chores and pet care you would complete in your own home
Preparing and offering meals or snacks and drinks for your Clients family & friends when they come to visit, so that your Client can continue to enjoy socialising in their home
Providing company to your Client when they go to appointments, visits or on social outings in the community
Supporting your Client with activities, interests or hobbies they enjoy
What skills or experience do I need?
Care experience and skills
It is always helpful if you have formal experience working as a Carer, even if this is from other healthcare settings for example, in a care home, as a healthcare support worker in a hospital or in a healthcare facility.
We would also like to hear from you if you have experience of caring for a loved one or family member.
Having experience however is not always essential, so long as you as a person are the right fit for the role.
Are you the right fit for the role?
Compassionate?
Kind?
Patient?
Trustworthy?
A genuine desire to help others and make a difference to their lives?
You treat people with respect & dignity and respect other people's decisions, choices and lifestyles?
You are committed and dedicated?
You are reliable?
You are willing to learn?
Further important requirements
The following requirements will also help you (and us) decide if you are suitable and capable for the role.
Good communication – It is essential that you have at least a good standard of spoken and written English as communication is an important part of providing care. You need to be able to communicate clearly with your Client, as well as keep detailed and accurate written records. You also need to effectively communicate with the office and keep us updated.
Good cooking skills – preparing & cooking nutritious and varied meals for your Client is an essential part of supporting their health and wellbeing. Many Clients consider their meals to be a highlight of their day!
Housekeeping skills – As a Live-In Carer, you will be responsible for running your Clients home and this means keeping it clean and tidy to a high standard, managing a budget for shopping, doing laundry & ironing and being able to use your own initiative to identify when tasks need completing.
The ability to work alone and unsupervised, potentially in rural locations – for a Live-In Carer, the role is unlike most other jobs where you work directly with colleagues, have friends in the office or work with the public and meet many different people each day. With Live-In Care, it is usually just you and the Client together for the majority of the time. You may also be placed with a Client who lives in a small village or rural location. We regularly call and visit however, these circumstances will not suit everyone, and it is important you will feel comfortable with these potential situations.
Willingness to provide personal care support which involves physical contact between you and the Client as you help them to wash, shower, dress, with continence care or hygiene support after using the toilet.
If I do Live-In Care, will I have my own bedroom in the Clients house?
We always ensure that the Client is able to provide you with a suitable bedroom.
As a Live-In Carer, do I have any time off, or breaks in the day?
Yes, most definitely. You are entitled to 14 hours off each week and most carers will use 2 hours of this time each day, but it helps to be flexible as it may be that arrangements work better if you take longer periods of time off on certain days. During this time, you are fully entitled to leave the property and are not expected to be available. Of course, if you prefer to rest or stay in your bedroom and catch up on a book or with friends online, you can do this too.
How much will I get paid?
We value our carers and offer competitive rates of pay.
Do I need to have a driving license and drive in the UK?
If you choose to be a Care Assistant, then yes, as you will be visiting more than one Client in a day.
As a Live-In Carer is always useful if you have a driving license and are willing to drive in the UK as many Clients ask for a carer who can drive but it is not a requirement. If you can drive but are nervous to drive in the UK, we can always arrange refresher lessons for you so that you can gain confidence driving on the left side of the road.
How does it work if I want a holiday?
To request a holiday, you simply email the office the dates you would like off.  As with any job, you need to give us notice if you are planning a holiday. We will check the dates and confirm when the holiday is approved.
Can I choose my Client if I do Live-In Care?
We carefully match you to the Clients we feel you are best suited to. If you find are not happy with your Client, we encourage you to let us know without delay.
Am I employed by Calida Care or the Clients?
You are directly employed by Calida Care and join our staff team. You are not employed by the Client or their families.
Is there someone I can call in an emergency?
Yes, we offer all our Carers a helpline number for emergencies after hours or when the office is closed.
Am I provided with training for the role? Do I pay for this?
Yes, we will provide you with Induction training and this is free of charge. The training is held in Basingstoke, Hampshire. Our programme is a mixture of independent e-learning and practical, 'hands on' training delivered by a trainer. It is designed to provide you with the skills, tools and knowledge you need to provide the highest standard of care, including basic life support, supporting people with personal care and safely managing medication.
We also provide you with the information you need to know about how we work as an organisation including:
Our values & what we expect from you as a Care Assistant or Live-In Carer
What you can expect from us
Your terms & conditions of service including pay, expenses and holidays
Where do I stay while I am attending the training?
If required, we will arrange, pay for and provide you with accommodation during your Induction training. Please note you may be sharing a twin-room with another candidate attending the training. You will need to arrange and pay for any travel (including flights), personal expenses and meals.
What other training & development opportunities are available with Calida Care?
Interested in gaining a diploma in Health & Social Care? We have a fantastic study scheme in place to help you achieve this.
I am really interested in joining the Calida Care team. What do I do next? Is there someone I can call or email to ask a few more questions?
We would love to hear from you and we are here to help and answer any questions you may still have. Please call us on +44 (0)1256 700991 if you would like to talk to someone before making an application, or complete our online form and we will get back to you without delay. You can also use our online form to send us your CV and start your application.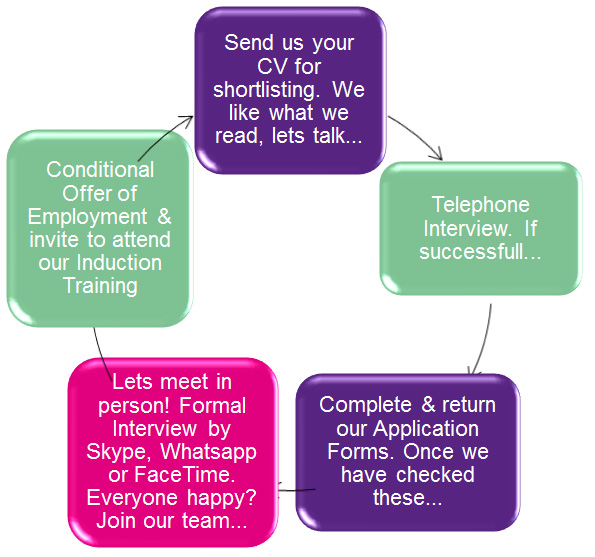 All offers of employment are made subject to us carrying out pre-employment checks which will include a DBS check, the receipt of correctly completed & signed application paperwork and at least two references, one which must be from your most recent employer.
Please note that the biggest cause of delays are as follows:
Application paperwork not being completed in full and signed
Lack of clear, accurate contact details for suitable referees (references)
Incorrect or insufficient documents provided for DBS checks
To prevent any delays, we will give you guidance on the documents you will need for the DBS check. We also find it can be helpful if you inform your referees that they will be receiving a reference request from us.
What documents will you need from me?
For purposes of pre-employment and DBS checks, we will need:
Your passport and/or valid ID Card
Driving licence (if you have one)
2 proof of address documents dated in the last 3 months
A DBS / Police Check document from the home country you are residing in if you are applying from abroad
Proof of National Insurance (if you have worked before in the UK, you should have this)
P45 (if your most recent employer was in the UK)
Any valid, UK training certificates if they apply to Health & Social Care
These need to be ORIGINAL documents and in your name. Feel free to contact us for further guidance, or if you have any questions; we are here to help.
I am from abroad. What else do I need to know about working in the UK? Do I pay tax? Do I need a UK bank account?
We welcome all nationalities and have Carers from many countries who have successfully completed their training and made a start with their working life in the UK.
Tax: As you will be working and paid a salary in the UK, you will need to pay tax (PAYE) and a contribution to National Insurance. We will calculate and deduct this automatically from your salary each month and provide you with a payslip so that you can see your earnings and deductions.
National Insurance (NI): NI is a deduction made from your salary which funds certain state benefits such as Statutory Sick Pay (SSP), maternity pay etc. You will need to apply for a National Insurance number as soon as possible and this is done through the Job Centre. Don't worry, we can advise you who to call for this.
Bank account: You will need to open a UK bank account so that we can pay you. The bank you decide you would like to use will be able to advise you on what they need. We can provide you with a copy of your Employment Contract and a letter confirming your employment if they ask for this.
I need a visa to work in the UK. Can Calida Care arrange this for me?
Calida Care is not able to arrange visa's however, if you already hold a UK visa, this may entitle you to work. Please contact us and we can advise you further. All applicants undergo right to work checks in order the ensure they are eligible to work in the UK.